The Roger Clip-On Mic is a cutting-edge wireless microphone, which enables clients to hear and understand more speech in loud noise and over distance. It  is as light as a feather and is ideal for using in a network with other Clip-ON Mics or Roger Pens.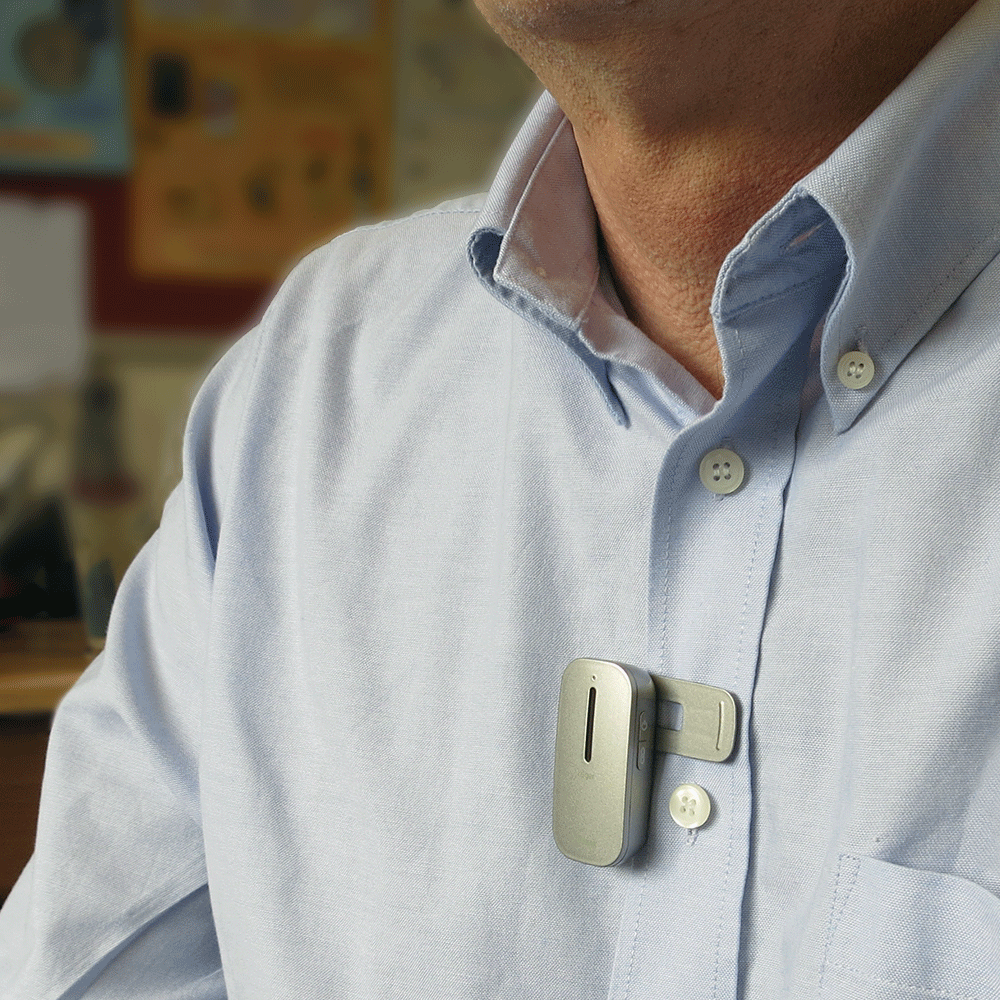 Designed to be light and easy to wear, the Roger Clip-On Mic has a powerful directional microphone, TV connectivity, and an audio input for listening to multimedia. It can also be used alongside other Roger Clip-On Mics and Roger Pens in a microphone network.

Roger is the latest wireless technology from Phonak. Digital processing makes speech significantly clearer – automatically adjusting to enhance understanding and comprehension considerably, even in noisy situations. For more information, click here.

The Roger Clip-On Mic is used with miniature Roger receivers, which attach directly to hearing aids or cochlear implants. These are sold separately and come in different models. Please click here for more information.
When to use it? The Roger Clip-On Mic will make a real difference in challenging listening situations, such as:
in loud noise
over distance
Roger Clip-On Mic Features:
Uses the Phonak Roger digital wireless platform 
lightweight and easy-to-wear

Optimised directional 'beamforming' microphone
Multiple microphones can be used in a network - up to 10 Roger Pens or Roger Clip on Mics can be used together. This is ideal for group discussions.
Supplied with a docking station which will work as a charger and also to listen to the TV.
The Roger Clip-On Mic docking station is used to both recharge the microphone and transmit audio from a TV or other audio device (such as your TV, tablet or HiFi) to the Roger Clip-On Mic (and into your hearing aids). Alternatively, you can use the short micro-USB audio cable to connect your multimedia device directly to your Roger Clip-On Mic.
Connecting a Roger Clip-On Mic to a Roger receiver is really easy - simply make sure they are all charged up, turned on and within 10cm of each other and then push the Connect button on the Roger Clip-On Mic. The indicator light will go green and you're ready to go!

The Roger Clip-On Mic is supplied with: Roger Clip-On Mic transmitter, docking station, MicroUSB lead, USB charging plug, storage pouch, lanyard, 3.5mm to 3.5mm audio cable, 3.5mm to MicroUSB audio adaptor cable, 3.5mm to Phono plugs audio adaptor cable & Quick Set Up Guide.
Power Supply: 100 – 230 V ac 50-60Hz. UK, EU & USA plug options.

Dimension: 54 x 25 x 18mm
Weight: 18g
Operating range: 20m (ideal case). 10m (typical)

Battery life: 6 hours
Number of microphones working together: up to 10
Phonak part number: 052-3294 (formerly 052-3187)

The Roger Clip-On Mic will work with Roger Pen transmitters and Roger receivers but not with the Roger inspiro, DigiMaster SoundField systems, Roger DynaMic or Roger AudioHub.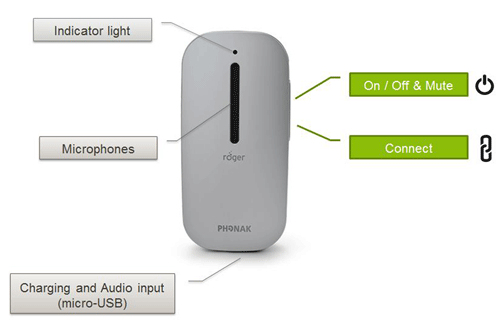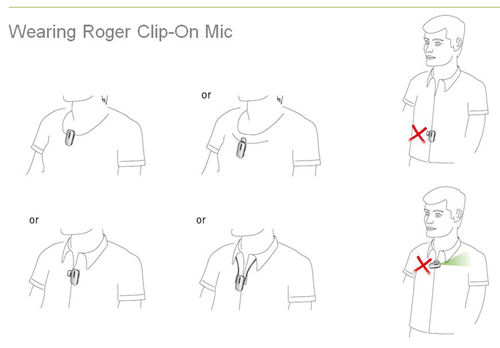 Click here to view pdf user guide
Click here to view pdf quick guide
Click here to view pdf datasheet

Phonak Roger for home and social situations

Phonak Roger with Hearing Aids
International warranty for Phonak equipment purchased for use outside of the UK.
Phonak offers a one-year limited international warranty, valid as of the date of purchase. This limited warranty covers manufacturing and material defects. The warranty only comes into force if proof of purchase is shown.
For customers using Phonak equipment outside the UK, in the unlikely event that your equipment requires repair it may be returned directly to your local Phonak service centre.