Roger X type 03 ear level receivers work fully automatically, there are no buttons and there is no programming software.
The Roger X type 03 receivers are for use with Roger Pen and Roger Clip-On Mic transmitters - please note that type 03 receivers cannot be used with Roger inspiro or Roger Touchscreen Mic transmitters.
Communication settings are remembered when power to the Roger X receiver is lost, eg when changing a hearing aid battery or adjusting a direct input shoe.

The Roger X is easy to fit with no user adjustments. It does not need to be orientated but the hearing aids will require the FM program.

There is minimal setting up and, with no connecting wires, it has high visual appeal it is the cosmetics and small size which appeals to people.
Please note that Roger X type 03 receivers are not compatible with any generation of SmartLink, ZoomLink, EasyLink or any inspiro transmitters.

Features:
Roger digital wireless technology

very small in size and weight
compatible with virtually all behind-the-ear hearing instruments
compatible with Cochlear BP100, BP110 Bahas, Cochlear Baha 4 & with the Advanced Bionics cochlear implant with the iConnect earhook
Autoconnect
No frequency management necessary
Roger receiver type 03

Don't forget that you will also need to purchase Roger X compatible direct input shoes. Please note that the Roger X is compatible with standard MLxi/MLxS audio input shoes.
Please note: we do not recommend the type 03 Roger X receivers for use with cochlear implants. Type 02 Roger X receivers are compatible with some cochlear implants but need to be set up correctly by your implant centre or teacher of the deaf. Please contact us for more information.
Height: 9.65mm
Range: up to 20m
Power consumption: 3.2mA
Note: For Baha 5 processors, Roger X receivers must be connected via the Mini Microphone 2+, as the processor does not have a socket on it to allow any form of direct connection.        
Please note that the Roger X is compatible with standard MLxi/MLxS audio input shoes.

The Roger X will not work with any 'In The Ear' hearing aids.
Manufacturer's part number: 054-3215-D03P5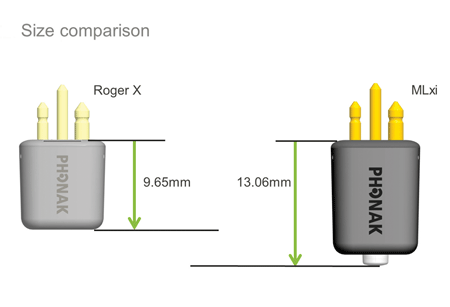 Phonak Roger with Hearing Aids
Phonak Roger X technical datasheet
International warranty for Phonak equipment purchased for use outside of the UK.
Phonak offers a one-year limited international warranty, valid as of the date of purchase. This limited warranty covers manufacturing and material defects. The warranty only comes into force if proof of purchase is shown.
For customers using Phonak equipment outside the UK, in the unlikely event that your equipment requires repair it may be returned directly to your local Phonak service centre.