The straightforward and universal Roger MyLink (Type 03) receiver can be used by both hearing aid wearers and non-hearing aid wearers. It makes the advantages of a radio aid system accessible for every day use in the home and out-and-about. 
The Roger MyLink type 03 receiver is for use with Roger Pen and Roger Clip-On Mic transmitters - please note that type 03 receivers cannot be used with Roger inspiro transmitters.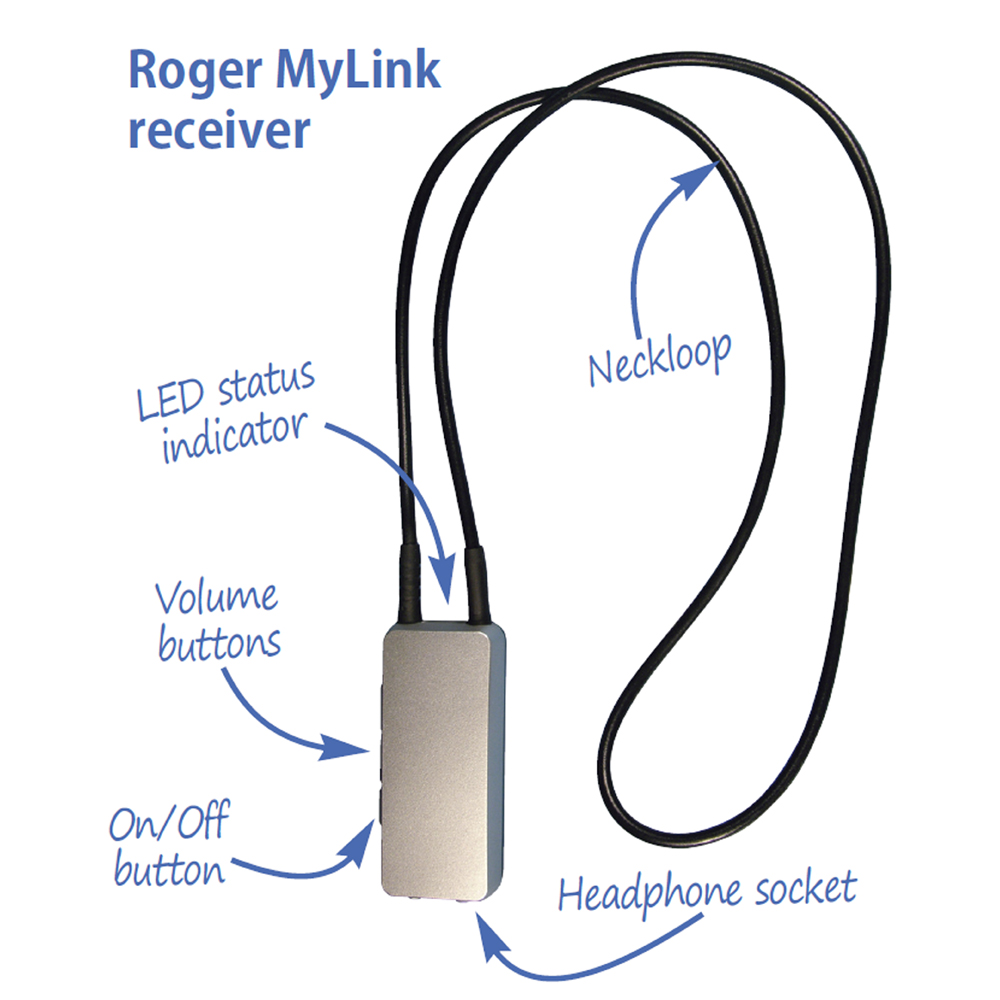 Especially designed for use by adults. The Roger MyLink 'hears' the speaker's voice loud and clear; even in noisy surroundings, when communicating over a distance, or in reverberating rooms. The Roger MyLink is used with a wireless transmitter (not included) which picks up your partner's voice and instantly relays it to your Roger MyLink by a digital Roger radio signal. The Roger MyLink transforms the signal and sends it directly into your hearing instruments via the wireless loop program (telecoil) link.
We do not generally recommend MyLink for the education sector due to the limitations of T-coil technology. However there may be certain circumstances when MyLink is the only practical alternative.
The Roger MyLink is a special Roger wireless receiver with integral neck-loop for use in conjunction with a separate Roger Touchscreen mic, Roger inspiro, Roger Pen, Roger EasyPen or Roger Clip-On Mic transmitter (not included).
Roger MyLink features:
compatible with all brands and styles of hearing instruments with a 'T'-coil - both in-the ear and behind-the-ear
Roger digital technology

no audio input shoes required
good sound quality 
sleep mode - to save power when there is no active transmitter present
no need to have one receiver unit per hearing aid, unlike the Roger X - more affordable
fitting is extremely easy as no programming is required
operation is as simple as: switch on the Roger transmitter, switch on the Roger MyLink and select 'T' or MT on the hearing instrument.
attractive and slim design, lightweight with few buttons 
duel colour LED battery life indicator on Roger MyLink
typical operating distance of 10m (30 feet) inside and 30m (90 feet) outside
The integral neck-loop allows the Roger MyLink to be worn visibly around the neck, or completely invisible under clothing. The Roger MyLink can be used with any hearing instrument that has a T-coil.
A set of headphones can be connected to the Roger MyLink instead of listening through the loop. With headphones, Roger MyLink becomes a wireless headset for people without hearing instruments. Museum tours, zoos and other public places are some examples of useful applications.
For for information on the difference between type 02 and type 03 Roger receivers please click here   

Power Supply: 100 – 230 V ac 50-60Hz. UK, EU & USA plug options.        
Consists of:
Roger MyLink receiver with integral neck cord

power supply/charger for Roger MyLink (part number 3PSMARTPSU)


instruction booklet.
Roger MyLink Size: 27 x 13 x 65mm approx Roger MyLink Weight: 43g approx
Roger MyLink headphone connector: stereo jack 2.5mm
Power Supply: 100 – 230 V ac 50-60Hz. UK, EU & USA plug options.

Please note - this part is the Roger MyLink on it's own, for use as a spare/replacement/addition to an existing system. A transmitter is required for the Roger MyLink to work - purchased separately.
Manufacturer pt no: 052-3226-D0M3

Click here to view pdf datasheet
Click here to view pdf user guide
International warranty for Phonak equipment purchased for use outside of the UK.
Phonak offers a one-year limited international warranty, valid as of the date of purchase. This limited warranty covers manufacturing and material defects. The warranty only comes into force if proof of purchase is shown.
For customers using Phonak equipment outside the UK, in the unlikely event that your equipment requires repair it may be returned directly to your
local Phonak service centre