The Roger Pen is a cutting-edge wireless microphone, which enables clients to hear and understand more speech in loud noise and over distance. Its settings automatically adjust to suit its environment based on acoustic scene analysis and its orientation. The Roger Pen is ideal for adults and teenagers. 
Designed particularly with discretion in mind, the Roger Pen features adaptive wireless transmission, fully automated settings, wideband audio Bluetooth for mobile phone use, TV connectivity, and an audio input for listening to multimedia. It can also be used alongside other Roger Clip-On Mics and Roger Pens in a microphone network.
Roger is the latest wireless technology from Phonak. Digital processing makes speech significantly clearer – automatically adjusting to enhance understanding and comprehension considerably, even in noisy situations. For more information, click here.

The Roger Pen is used with miniature Roger receivers, which attach directly to hearing aids or cochlear implants. These are sold separately and come in different models. Please click here for more information.
When to use it? The Roger Pen will make a real difference in challenging listening situations, such as: 
in loud noise
over distance
when there are several speakers.

Roger Pen Features:
Uses the Phonak Roger digital wireless platform 
Sophisticated and discrete design
Automatic adjustment between different microphone modes, depending on which way up the Pen is and the level of background noise

Advanced beamforming will improve speech understanding when used in a directional microphone setting (pointed towards a particular speaker) or in noisy conference-style situations
Bluetooth for mobile phone use - hands free functionality
Multiple microphones can be used in a network - up to 10 Roger Pens or Roger Clip on Mics can be used together
Supplied with a docking station which will work as a charger and also to listen to the TV.
Now with digital optical input facility (Toslink cable required/not included). The 3.5mm audio input socket is now a joint 3.5mm analogue input & digital audio input (choose PCM not Dolby).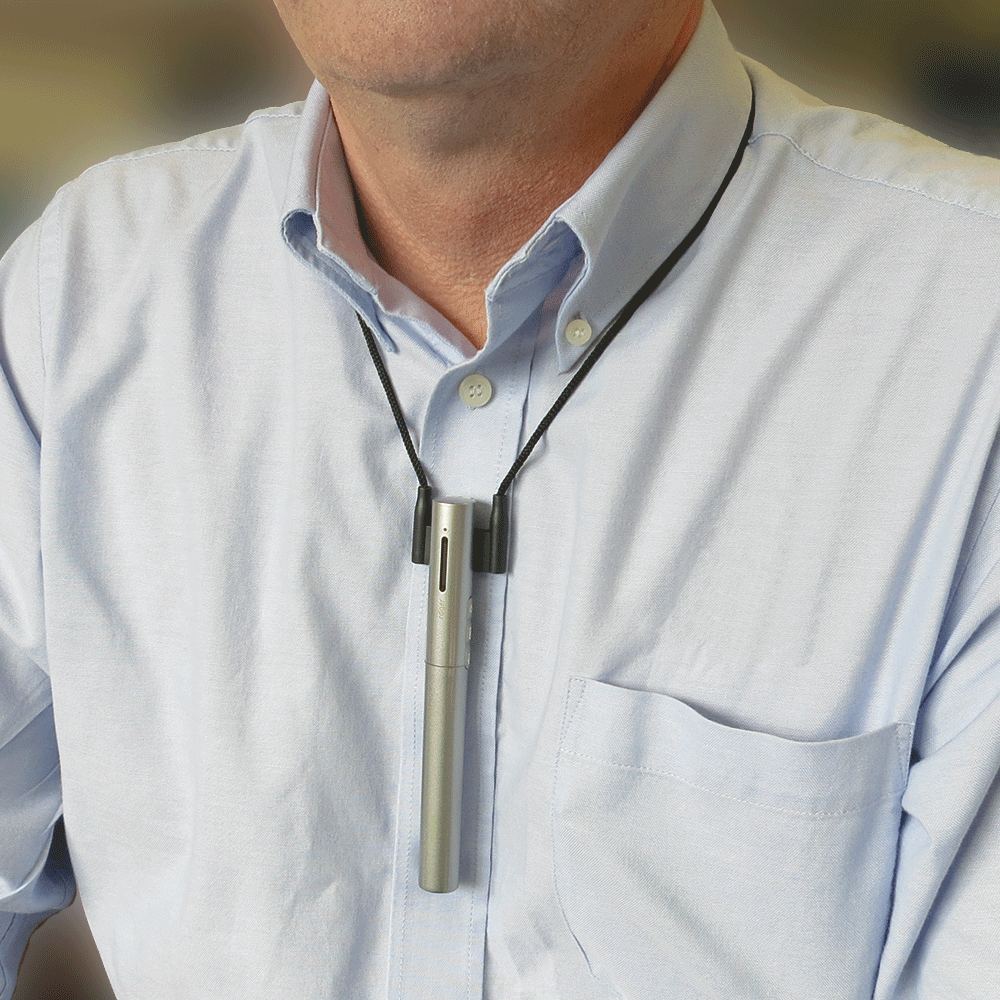 The Roger Pen is a flexible, intelligent product. It detects which situation you are in and adapts its microphone settings automatically to provide you the best speech understanding possible.
There are 3 different automatic microphone options:
Conference style - Place Roger Pen in the middle of a table to listen to a
group of people. The Pen will automatically detect that it is lying down and will set the microphones to an omnidirectional setting. Additionally, a carefully positioned weight will ensure that the microphones are always facing upwards.
Interview style - Hold Roger Pen in your hand and point it towards the person you want to hear. The Pen microphones will zoom in on the person speaking.
Around the neck - Use the lanyard (neckloop) to hang Roger Pen around the
neck of the speaker you want to hear. The Pen will detect that it is being used vertically and will go into directional microphone mode.
The Pen will also automatically adjust the gain of the receiver when the environmental noise increases. It is possible to manually override the automatic microphone settings if preferred. A special surface treatment reduces the noise caused by rubbing against other surfaces, such as clothing, to an absolute minimum.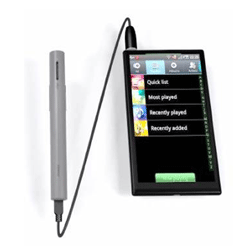 The Roger Pen also allows you to connect to Bluetooth-enabled mobile phones and smartphones to make and receive phone calls. The microphone in the Pen will transmit your voice and you can answer or hang up a call using the buttons on the side. When paired with your phone, you will also hear incoming calls ring in your hearing aids.

The Roger Pen docking station is used to both recharge the microphone and transmit audio from a TV or other audio device (such as your TV, tablet or HiFi) to the Roger Pen (and into your hearing aids). Alternatively, you can use the short micro-USB audio cable to connect your multimedia device directly to your Roger Pen.
Connecting a Roger Pen to a Roger receiver is really easy - simply make sure they are all charged up, turned on and within 10cm of each other and then push the Connect button on the Roger Pen. The indicator light will go green and you're ready to go!

The Roger Pen is supplied with: Roger Pen transmitter, docking station, MicroUSB lead, UK USB charging plug, storage pouch, lanyard, 3.5mm to 3.5mm audio cable, 3.5mm to MicroUSB audio adaptor cable, 3.5mm to Phono plugs audio adaptor cable & Quick Set Up Guide.
Power Supply: 100 – 230 V ac 50-60Hz. UK, EU & USA plug options.

Charging time: 2 hours
Dimension: Ø15 x 142mm
Weight: 28g
Operating range: 20m (ideal case). 10m (typical)

Battery life: 7 hours
Number of microphones working together: up to 10
The Roger Pen will work with Roger Clip-On Mic transmitters and Roger receivers but not with the Roger inspiro, DigiMaster SoundField systems, Roger DynaMic or Roger AudioHub. 

Bluetooth Class 2. for handsfree phone calls (does not support music streaming)
Bluetooth Range: 3m (10ft).
Bluetooth operating time: 5 hours active / 2 days standby

Roger Pen can support (connect to) two phones at the same time, but only one call at a time is possible.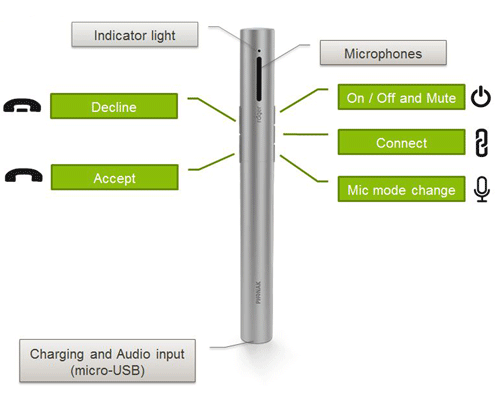 Networks:
One of, if not the most difficult situations for listeners with hearing loss is a conversation with multiple partners in high levels of noise, such as in noisy restaurants and parties. In these demanding situations the Roger Pen and the Roger Clip-On Mic can be combined to form a wireless network of multiple microphones – providing the Roger listener with improved access to the speech
of the friends or family around them.
In this case each conversation partner wears their own wireless microphone, with one 'master' microphone in the network controlling which microphone is open at any one time. (Only one microphone can be active at any one time, all other microphones are muted.) Switching between microphones occurs quickly and automatically on a first-come, first-served basis. In other words, voice activity steers this switching.
Why only enable one microphone at a time? Typically a person cannot listen to two audio streams at the same time. And on average the signal-to-noise ratio (SNR) is at best 0 dB if multiple audio (voice) streams are audible, which is not a high enough SNR for listeners with hearing loss. Therefore it does not make sense to have more than one microphone active at the same time. Additional Roger Pens or Clip-On Mics can be added at any time. It is also possible to build mixed networks with one or more Roger Pens and one or more Roger Clip-On Mics within the network.
Click here to view pdf user guide   
Click here to view pdf quick quide
Click here to view pdf technical datasheet

Phonak Roger for home and social situations

Phonak Roger with Hearing Aids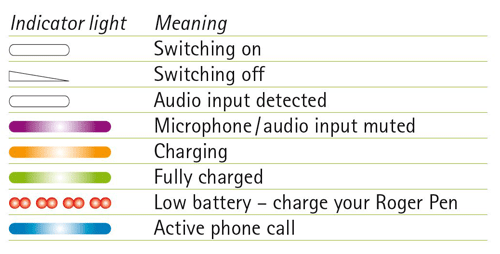 International warranty for Phonak equipment purchased for use outside of the UK.
Phonak offers a one-year limited international warranty, valid as of the date of purchase. This limited warranty covers manufacturing and material defects. The warranty only comes into force if proof of purchase is shown.
For customers using Phonak equipment outside the UK, in the unlikely event that your equipment requires repair it may be returned directly to your
local Phonak service centre
Review this product
Phonak Roger Pen Microphone Transmitter (3PRPEN)
Reviewed by: Roger H
Just got roger pen and phone what a difference a whole life as opened up.and grateful thanks to helen the trainer who has patience of a saint with me lolol .
Phonak Roger Pen Microphone Transmitter (3PRPEN)
Reviewed by: John H
Thank you for sending me the Roger Pen, that is now up and running.
It is a wonderful device and has already improved my life
Phonak Roger Pen Microphone Transmitter (3PRPEN)
Reviewed by: Terry Cooper
I have severe high pitch and my wife severe low pitch deafness and we struggle with tv , social and in car communication. The Roger my Pen and My Link is just fantastic. It has taken away the anxiety of meeting people in pubs and we can talk in the car easily. The tv is excellent. I have upgraded the jack to jack cable to one costing £22 which gives a much softer sound. Highly recommended. Thanks to Ric who gave me much help.
Terry & Lynda Cooper
Phonak Roger Pen Microphone Transmitter (3PRPEN)
Reviewed by: Terry Shaw
Waste of money, unfortunately the return period had expired before my audiologist, assisted by the Phonak rep, got it set up. Even now sound is distorted and background noise is just as intrusive as with 'aids alone. I have since had the pen put on a second additional programme on my hearing aids which turns off all external sound except the pen. This cures the background noise issue but does not improve sound quality.
Connevans: We are pleased that you have solved the background noise issue but are surprised & sorry that you do not find the pen beneficial. Can we suggest that you raise the issue of sound quality next time you visit audiology.
Phonak Roger Pen Microphone Transmitter (3PRPEN)
Reviewed by: Lesley
I have recently acquired a Roger pen for use at work, this was primarily to help alleviate the problems I was having hearing telephone calls in a very busy office environment. The telephone had become my enemy and I was becoming terrified to use it for fear that I would not hear the caller, miss important information and generally be extremely embarrassed in front of my colleagues, especially as this was a new job. I also require this to help in meetings and training sessions etc.
I have become deafened over the years and experience tinnitus as well as a decreased ability to hear, I have been wearing 2 x hearing aids for over 20 years which have improved with new digital technology, I wear my hearing aids for approximately 11 hours a day and totally rely on them.
I must thank Connevans and leave this review for future customers as the Roger pen has revolutionised my life, I no longer fear the telephone as I can hear the caller directly through both hearing aids, this took some getting used to and I did have a few initial teething problems with echo and pairing but this has now been sorted out with a bit of perseverance of reading the instruction booklet and becoming familiar with the pen. I did have a lady who came to train me to use the device and this was very useful however, it was a lot of information to take in during one session so a bit of patience and fiddling around was required on my part.
I must say WOW ITS MAGIC!!! I LOVE IT, I could almost cry with how much it has helped.
Thank you Connevans in particular Laura Evans Beynon who has been an invaluable help.
Thank you all so much
Lesley
Phonak Roger Pen Microphone Transmitter (3PRPEN)
Reviewed by: Wendy
The equipment and training has been amazing. I found it very useful and helpful. I am able to hear properly for the first time in years.
Phonak Roger Pen Microphone Transmitter (3PRPEN)
Reviewed by: Gareth
Quite simply the best, most innovative piece of equipment I've had the pleasure of using (and I work in a technology environment!). Based in a large open plan office with lots of conference calls on bog-standard desk phones and busy meetings, the Roger system really is amazing. Conversations are clear even in the noisiest environments (1:1 conversation in a packed staff canteen? No problem!) and I can understand conference calls again on even a bog standard speaker phone.
The Bluetooth connectivity means I can take hands-free calls (and turn my hearing aids into amazingly clear and comfortable headphones!). Although it's early days yet with Roger, it's versatility is really remarkable - I have no idea how I managed without this.
Phonak Roger Pen Microphone Transmitter
4.428571428571429
5
7
7