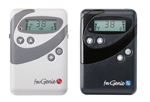 Many fmGenie radio aid users require to use their system in group seminar situations. Whilst it is not possible to replicate the same quality obtained from a microphone worn on the person, the Connevans fmGenie conference microphone successfully increases the distance of useful sound pick-up. 

Neck loop fmGenie system - standard package for individuals using a neck loop with their hearing aid on the T setting and a conference microphone for use in meetings.
The QFMG4W package includes the fmGenie equipment, accessories and recommended spares required for a working system:
fmGenie transmitter
fmGenie receiver
2 x mic packs
2 x neck loops
2 x fmGenie pouches with belt clip
hip pouch and shoulder strap
neck harness and pouch
radio aid carry pouch
4 NH6 rechargeable batteries
twin tail charger
listening test set
1 x Welsh Red fmGenie flash
1 x True Blue fmGenie flash

fmGenie operating instructions & literature
FMG22PK1 fmGenie conference microphone pack (which includes: fmGenie conference microphone, pouch and 2m extension lead)
Many people want to add extra functions to their system. For easy to use packages and add-ons, click here.
Bespoke on-site user set up and training visit available.
All new fmGenie systems are supplied with full instructions and support cards and are easy to set up and use. Telephone and email support is always available free of charge. However, we also offer a bespoke on-site set up and training visit for individual systems where we will tailor the session to the specific needs of the user. Our friendly and approachable trainer will spend as long as is required to get the system working in your specific environment and to ensure that you are happy and confident about all the different ways the equipment can work for you.
We would strongly recommend this service for those in employment situations where the radio aid needs to interact with existing equipment.