Neckworn receiver for hearing aid users using 'T ' and non-hearing aid users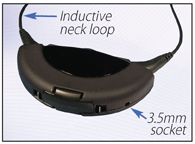 All the neckloop systems offer excellent field strength and good mono sound quality. They also all have a standard headphone socket, making them ideal for those who have a hearing aid but don't wear it all the time. 
The inductive neckloop allows hearing aid users to listen on the Loop Programme ('T') of their hearing aid, which greatly improves the sound quality.
Non hearing aid users can use the 3.5mm stereo headphone socket to plug in their own headphones or earphones ‒ click here for our headphone range.
Wireless TV listening: which system to choose - infra red or digital?
Infra Red: Operates within line-of-sight in the same room. The advantage with infra red is that several systems can be used in adjacent rooms making it eminently suitable for multiple occupancy residences.
Digital Radio:  Can be used anywhere within the range of the transmitter. This allows freedom of movement around the same or adjacent rooms. Also good for those with visual impairment as it doesn't require line-of-sight use.

Our experience is that Infra red is the most popular choice for TV listening whereas the Digital systems are a better choice for use with a radio or hi-fi because you can listen in the next room or nearby garden. Remember that digital Freeview, Sky & Cable TV now includes radio channels. If you have a plasma TV, we recommend purchasing a digital, rather than infra red, system to avoid the possibility of interference.