Phonak Roger EasyPen Transmitter and one Roger MyLink Receiver (type 03).
Please note that this package includes a type 03 Roger MyLink receiver, generally suitable for independent adult use. For information on the differences between type 02 and type 03 receivers click here or contact us directly.

The Roger EasyPen is a cutting-edge wireless microphone, which enables clients to hear and understand more speech in loud noise and over distance. Its settings automatically adjust to suit its environment based on acoustic scene analysis and its orientation. The Roger EasyPen is ideal for adults and teenagers. 
Designed particularly with discretion in mind, the Roger EasyPen features adaptive wireless transmission, fully automated settings, TV connectivity, and an audio input for listening to multimedia. It can also be used alongside other Roger EasyPens, Clip-On Mics and Roger Pens in a microphone network.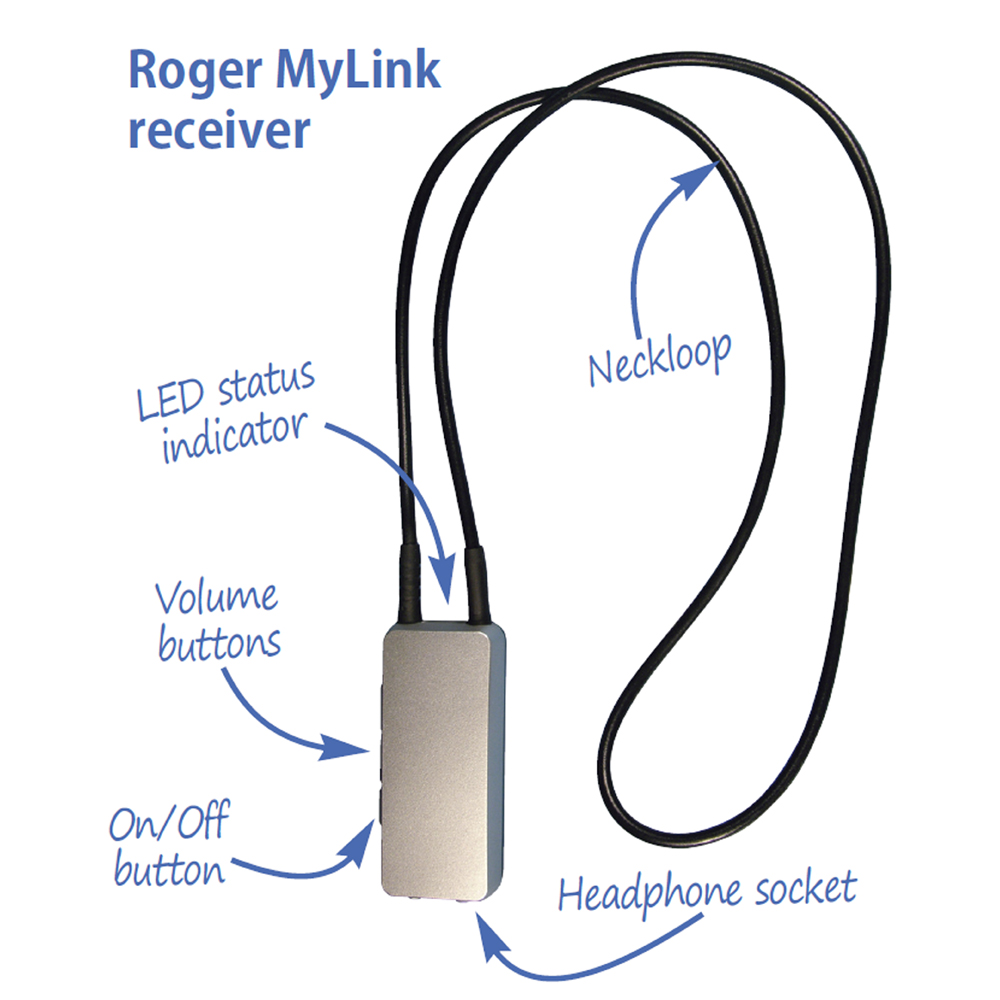 The straightforward and universal Roger MyLink (Type 03) receiver can be used by both hearing aid wearers and non-hearing aid wearers. It makes the advantages of a radio aid system accessible for every day use in the home and out-and-about. The integral neck-loop allows the Roger MyLink to be worn visibly around the neck, or completely invisible under clothing. The Roger MyLink can be used with any hearing instrument that has a "T" or "loop" programme.
Roger is the latest wireless technology from Phonak. Digital processing makes speech significantly clearer – automatically adjusting to enhance understanding and comprehension considerably, even in noisy situations. For more information, click here.
Including:
Roger EasyPen transmitter set
1 x Roger MyLink neckloop receiver (type 03)          
The Roger EasyPen is supplied with: Roger EasyPen transmitter, docking station, MicroUSB lead, UK USB charging plug, storage pouch, lanyard, 3.5mm to 3.5mm audio cable, 3.5mm to MicroUSB audio adaptor cable, 3.5mm to Phono plugs audio adaptor cable & Quick Set Up Guide.
The Roger MyLink receiver is supplied with: power supply/charger for Roger MyLink, instruction booklet.      
Roger EasyPen details:
Charging time: 2 hours
Dimension: Ø15 x 142mm
Weight: 28g
Operating range: 20m (ideal case). 10m (typical)

Battery life: 7 hours
Number of microphones working together: up to 10
The Roger EasyPen will work with Roger Clip-On Mic, Roger Pen and Roger EasyPen transmitters and Roger receivers but not with the Roger inspiro, DigiMaster SoundField systems, Roger DynaMic or Roger AudioHub. 

Roger MyLink features:
compatible with all brands and styles of hearing instruments with a 'T'-coil - both in-the ear and behind-the-ear
Roger digital technology

no audio input shoes required
good sound quality 
sleep mode - to save power when there is no active transmitter present
no need to have one receiver unit per hearing aid, unlike the Roger X - more affordable
fitting is extremely easy as no programming is required
operation is as simple as: switch on the Roger transmitter, switch on the Roger MyLink and select 'T' or MT on the hearing instrument.
attractive and slim design, lightweight with few buttons 
duel colour LED battery life indicator on Roger MyLink
typical operating distance of 10m (30 feet) inside and 30m (90 feet) outside
A set of MyLink headphones (purchased separately) can be connected to the Roger MyLink instead of listening through the loop. With headphones, Roger MyLink becomes a wireless headset for people without hearing instruments. Museum tours, zoos and other public places are some examples of useful applications.
Click here to view pdf Roger MyLink datasheet
Click here to view pdf Roger MyLink user instructions
Click here to view pdf Roger EasyPen user guide

Click here to view information about the Phonak Roger in education
Click here to view information about the Phonak Roger for Home and Social Situations
Click here to view information about the Phonak Roger at Work 

Click here to view information about the Phonak Roger with Hearing Aids
Click here to view Roger Quick Facts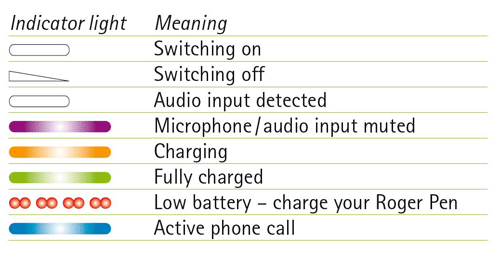 International warranty for Phonak equipment purchased for use outside of the UK.
Phonak offers a one-year limited international warranty, valid as of the date of purchase. This limited warranty covers manufacturing and material defects. The warranty only comes into force if proof of purchase is shown.
For customers using Phonak equipment outside the UK, in the unlikely event that your equipment requires repair it may be returned directly to your
local Phonak service centre